Posted on
By Michelle van der Harst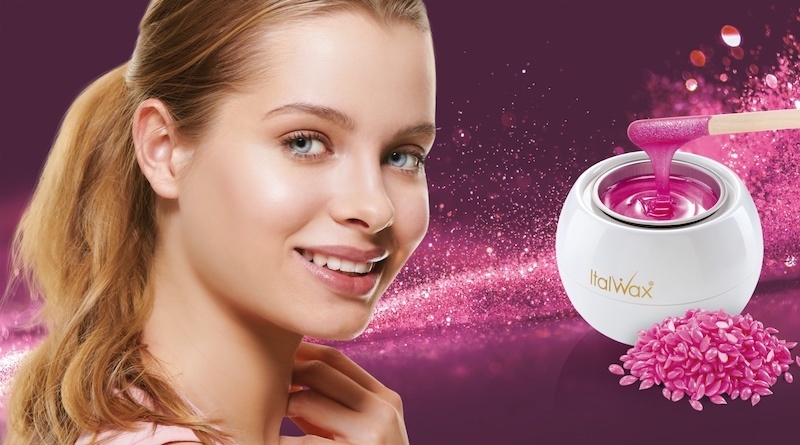 The Italian brand Italwax develops highly effective depilatory waxes in its own laboratory in Milan - and the Dutch company Maxx Wellness is the importer of these products in the Benelux. In addition to various fragrances and types of wax (from cartridges to beads), Maxx Wellness now sells the Glowax Kit from Italwax: an innovative set for facial hair removal, including a wax heater and pre and post treatment products. Drogist'Business spoke about it with the knowledgeable Nikita Reuter, responsible for marketing and sales at Maxx Wellness.
'All hair removal products in one package'
The contents of the kit
The Glowax Kit contains all the products needed for a professional hair removal treatment at home. A wax warmer, two bags of cosmetic talcum powder, a bottle of 'prewax gel', a bottle of hair growth inhibiting 'afterwax emulsion', 20 disposable wooden spatulas for the upper lip or cheeks, 10 smaller spatulas for the eyebrows, two cleaning wipes for the wax warmer, a leaflet and of course the wax itself: two bags with granules of 80 grams each. That is good for more than 30 removals of the upper lip. Once the wax has run out, refills are of course available. Due to its completeness, the Glowax Kit is one of the best-selling products of Maxx Wellness. Nikita: "Consumers like not having to purchase all kinds of individual products, but to be able to find everything in one package." The consumer is also well instructed, because in addition to a paper manual, an online video has also been provided. The hair removal video, which was created to make the waxing experience unique and painless, can be accessed via a QR code.
Easy to use, suitable for sensitive skin
By the way, it is not complicated to use the kit. Nikita explains: "The wax heater stays at one temperature, so you don't have to adjust anything. You don't have to worry about it, because the device cannot overheat. The wax itself also has a low melting temperature of between 38 and 40 degrees. This means that it cannot burn your face and that is also very nice," she laughs. The synthetic Glowax is also hypoallergenic and suitable for sensitive skin, because the composition is free of natural resin – an ingredient that many people's skin reacts incorrectly to. Since the wax has been developed for sensitive areas, you could in principle also use it on other parts of the body, such as the armpits. For a larger hair zone, more wax is of course needed; in that case a refill can be bought of, for example, 500 grams or even 1 kilo.
About Maxx Wellness
Maxx Wellness is located in Zwanenburg, North Holland, and has been in existence since 2007. An enthusiastic team is continuously looking for products for pleasant moments, for relaxation and revitalization. Think of hair, body and facial care in the form of shampoos, creams, massage oil and wax, gels and essential oils. The focus of the company is on finding small specialized producers who offer special products at a competitive price. Several products from Maxx Wellness' range have won awards at major events such as the biannual Natural & Organic Products Europe in London
Italian quality
"The Glowax Kit is a very nice, professional quality Italian product," said Nikita. "Everything is manufactured in Italy. This is also important with a view to sustainability, because now we don't have to travel all over the world for raw materials and the like for production. Limiting the intermediate steps is a lot better for the environment." The consumer does not pay the highest price for that good Italian quality, because the Glowax Kit has a good price-quality ratio. "The suggested retail price of €39.95 is very attractive, and that's not unimportant," says Nikita. The 21-year-old employee is clearly enthusiastic about the Glowax Kit. She has it herself and uses it every month to update everything. "I am very satisfied with it. I personally like the kit for styling the eyebrows. With the eyebrow spatulas that are included, you can easily create tight eyebrows. It takes some practice, but since I discovered this, I no longer have to go to a salon to have my eyebrows done. I just do it myself with the Glowax Kit."
Sales channels
Maxx Wellness is the exclusive importer of Italwax products for the Benelux. They distribute to drugstores, professionals such as beauticians and directly to the customer – via the webshop. Nikita: "We are now working on sales to drugstores and would like to expand further in this area. This specific product is very interesting for the end consumer who buys at the drugstore." The market in the Netherlands and Belgium is growing well, says Nikita, so Maxx Wellness will now also focus on Germany, one of the countries that offer a lot of perspective. That promises something for the future!